Using Technology to Manage Your Finances
March 01, 2019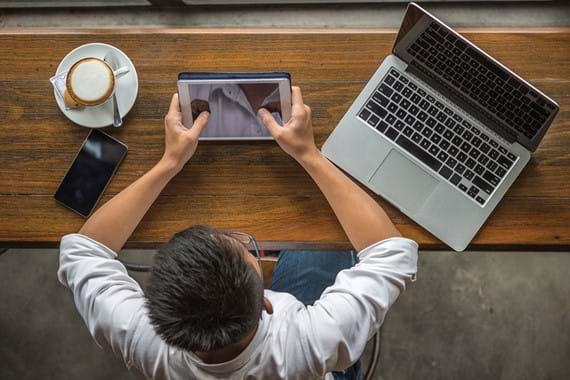 In today's fast paced world, we use technology in almost every area of our lives. So, it makes sense to use technology to manage our personal finances. With the correct tools and skills, it has become easier for anyone to manage their money with an online program or mobile app.
Using technology to manage your finances simplifies many tasks by helping you to organize, manage your accounts and stay in control of your entire financial picture. There are many areas where you can leverage the power of technology to automate financial tasks such as budgeting, tracking your spending, paying your bills, making deposits, tracking your investments, aggregating your accounts and shopping.
With the rise in popularity of online banking, it's now possible to pay bills, check your account balance, transfer money, deposit checks, and pay other people from your desktop or mobile device. You can also set reminders and automate payments so that you never miss a payment or make a late payment, resulting in an adverse effect on your credit score.
There are many personal finance tools available that allow you to aggregate your financial accounts and track any activities in them. This type of tool connects your accounts like bank, mortgage, investment portfolio, retirement and credit cards in one place so that you can easily access important information on personal spending, cash flow, savings, and investments. Using an account aggregation tool will also assist you in creating a realistic budget because you will see your typical cash flow and expenses for each month.
Shopping may not be top of mind when it comes to using technology to manage your finances. Nevertheless, online retailers allow you to save both time and money by reducing costs like travel and providing the ability to compare prices offered by several different vendors. Add in free shipping, coupons and loyalty/rewards programs and it's no wonder that e-commerce websites and apps are some of the most popular and affordable ways to shop for anything from apparel to groceries.
With so many money management tools out there, it can be difficult to decide which one is best for you. To assist consumers, the website Investopedia.com has compiled their list of the top personal finance apps of 2019. Here are a few of their picks:
The Mint app for managing your money: According to Investopedia.com, the free Mint app from Intuit Inc. is an effective all-in-one resource for creating a budget, tracking your spending and getting smart about your money. You can connect all your bank and credit card accounts, as well as, your monthly bills, so all of your finances are in one convenient place.
Mint lets you know when bills are due, what you owe and what you can afford to pay (based on your available funds).The app can also send you payment reminders or warn you if you're approaching budget limits. Based on your habits, Mint even gives you specific advice to gain more control over your spending. The free credit score is a nice bonus, too. Learn more at www.mint.com.
You Need a Budget app for getting out of debt: You Need a Budget (YNAB) is unlike any other budgeting app you've used before. YNAB helps you stop living from paycheck to paycheck, pay down debt and "roll with the punches" if something unexpected comes up. It's built around a fairly simple principle—every dollar has a "job" in your personal budget, be it for investment, for debt repayment or to cover living expenses.
You Need a Budget doesn't force you to create budgets around money that you don't have – it forces you to live within your actual income. If you get off track, YNAB helps you see what you need to do differently to balance your budget. The built-in "accountability partner" keeps you on your toes. Although users pay a monthly or annual fee ($7 a month or $84 a year) for YNAB, many feel the service and support are worth it. Learn more at www.youneedabudget.com.
The Wally app for tracking expenses: Instead of manually logging your expenses at the end of the day (week or month), Wally lets you simply take a photo of your receipts. And, if you use geo-location on your device, it even fills in that info, saving you several steps.
Wally is a clean, streamlined app that's extremely convenient and easy to use. It's a great choice if you'd like more insight into where your money is going. Learn more at wally.me.
Today's technology makes managing money, sticking to a budget and saving easier than ever before. Before deciding on any tool, you should research financial programs and mobile apps because new offerings are available all the time.
Back to Financial Resource Center